North Korea to send team to Olympic
North Korea is to send a delegation to the 2018 Winter Olympic Games, taking place in South Korea in February, officials from the South say.
The breakthrough announcement came as the countries met for their first high-level talks in more than two years.
The delegation will include athletes, officials and supporters.
South Korea also proposed holding family reunions during the Winter Olympics for people separated by the Korean War.
The issue is a highly emotional one for both countries, and South Korea has constantly been pushing for more reunions to take place.
The reunions are expected to take place during the Lunar New Year holiday, which falls in the middle of the Pyeongchang Games.
Seoul also called for athletes from both Koreas to march together at the opening ceremony of the Olympic Games. It's not yet known how North Korea responded to those offers.
The last time both countries marched together under the Korean Peninsula flag was more than 10 years ago, at the 2006 Winter Olympics.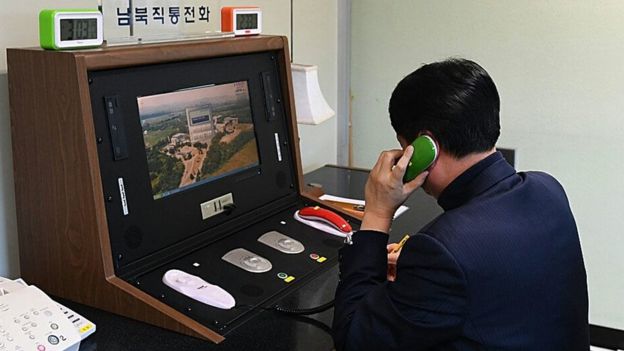 The talks began early Tuesday in the Panmunjom "peace village" in the demilitarised zone (DMZ) at the border.
Speaking afterwards, Seoul's vice unification minister Chun Hae-Sung told journalists: "The North side proposed dispatching a high-level delegation, National Olympic Committee delegation, athletes, supporters, art performers, observers, a taekwondo demonstration team and journalists" to the Games.
South Korea's Pyeongchang chief had said last year that North Korean athletes would be allowed to cross the demilitarised zone into South Korea to compete in the Winter Olympics.
"All nations are very welcome, including North Korea," said Lee Hee-beom to Reuters.
But it was only earlier this year that North Korean leader Kim Jong-un said he was considering sending a team to the Olympics in Pyeongchang in his New Year address.
The South then proposed high-level talks to discuss the North's participation, but the North only agreed to the talks after the US and South Korea agreed to delay their joint military exercises until after the Olympics. The North sees the annual drills as a rehearsal for war.
The International Olympic Committee had said last week that it "welcomed" North Korea's interest in participating in the Pyeongchang Games.
Tense ties
Ties between both Koreas have become increasingly tense since the last talks in 2015.
Relations broke down after Seoul suspended a joint economic project at the Kaesong Industrial complex in North Korea following a rocket launch and nuclear test by the North.
The incident led to North Korea ending all communication with Seoul, including cutting off telephone lines.
Tensions have risen in the years since, as the North continues to rapidly advance its banned nuclear weapons programme.
Source: BBC