Russia expels US diplomats in tit-for-tat measure
Russia has expelled 60 US diplomats and closed the country's St Petersburg consulate in a tit-for-tat response to US action over a spy poisoning case in the UK.
The moves were announced by the Russian Foreign Minister Sergei Lavrov.
It comes amid a row over the nerve agent attack on a former Russian spy and his daughter in southern England.
Sergei Skripal and his daughter Yulia were found unconscious on a bench in the city of Salisbury on 4 March.
More than 20 countries have expelled Russian envoys, in solidarity with the UK, which has blamed Moscow for the attack.
Russia has vehemently denied any role. Mr Skripal remains in a critical but stable condition. His daughter's condition is said to be improving.
Mr Lavrov said that the US ambassador had been informed of "retaliatory measures".
He said they included "the expulsion of the equivalent number of diplomats and our decision to withdraw permission for the functioning of the US consulate general in Saint Petersburg".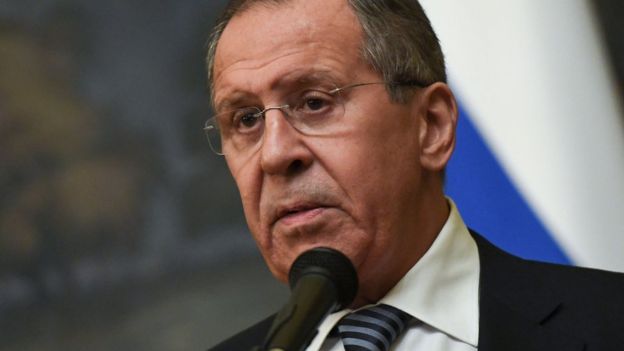 Foreign Minister Sergei Lavrov said Russia would respond "in kind"
The US had earlier ordered the expulsion of 60 diplomats and closed the Russian consulate general in Seattle.
Mr Lavrov said other countries which had expelled Russian diplomats could expect Moscow to respond in kind.
Shortly afterwards, the Russian foreign ministry declared 58 US diplomats in Moscow and two in the city of Yekaterinburg to be "persona non grata", the Interfax news agency reported.
How did the tit-for-tat expulsions begin?
Following the incident in Salisbury, British Prime Minister Theresa May announced a series of sanctions, including the expulsion of 23 Russian diplomats alleged to be intelligence agents.
The Kremlin responded by expelling an equal number of UK diplomats and closing the country's British Council.
Then – in what has been cited as the largest collective expulsion of Russian intelligence officers in history – more than 20 governments expelled diplomats in their countries.
Earlier this week, Nato also expelled seven Russian diplomats in response to the nerve agent attack.
The military alliance's chief Jens Stoltenberg said the move would send a message to Russia that there are "costs and consequences" for its behaviour.
What else did Sergei Lavrov say?
The Russian foreign minister accused Britain of "forcing everyone to follow an anti-Russian course".
He said Moscow was responding to "absolutely unacceptable actions that are taken against us under very harsh pressure from the United States and Britain under the pretext of the so-called Skripal case".
Mr Lavrov reiterated Russian calls for consular access to Yulia Skripal – a Russian citizen.
"I hope that Britain will be able to carry out its obligations under the consular convention and the Geneva Convention on Diplomatic Relations," he said.
Mr Lavrov said Russia was also seeking a meeting with leaders of the Organisation for the Prohibition of Chemical Weapons to "establish the truth".
"We are counting on our Western partners not evading an honest conversation," he added.
Source: BBC