Chinese activist jailed for eight years
A prominent Chinese human rights activist, best known by the online alias Super Vulgar Butcher, has been jailed for eight years for subversion.
Wu Gan has been held since 2015, when authorities arrested or questioned hundreds of lawyers and activists.
Mr Wu said he planned to appeal against the sentence, seen as the harshest against a human rights activist since the crackdown began two years ago.
He is known for online campaigns designed to humiliate authorities.
Convicting Mr Wu, the court in Tianjin said he was "dissatisfied with the current system of governance, and that gradually produced thoughts of subverting state power".
The court also accused said he "spread fake information" and "insulted others online".
Mr Wu took up the causes of those he saw as victims of state power, including the case of a rape victim who had killed her assailant, a Communist Party official, by stabbing him with a fruit knife.
He also fought for justice on behalf of four men who claimed that they had been wrongfully jailed for murder.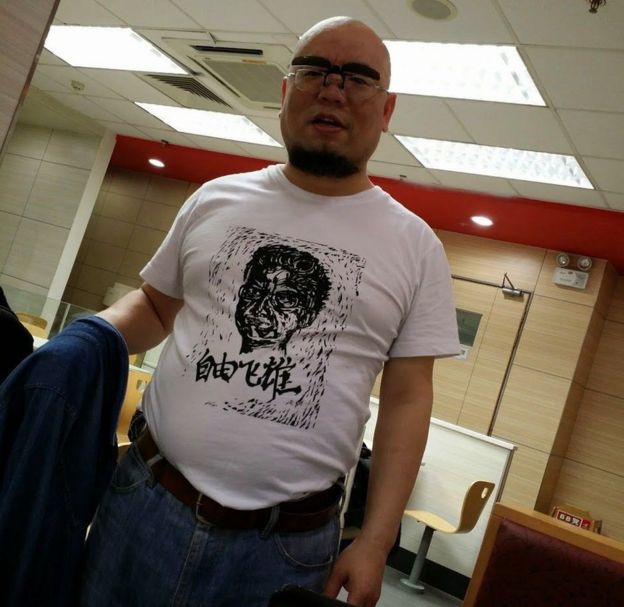 Wu Gan recorded a video in which he said he wanted to make China a "happier place"
His activism has had a playful or mischievous tone. He once photo-shopped the faces of three Henan province officials on to pigs and posted the pictures on social media with the caption: "World's Most Wanted; three fat pigs."
And at the court that jailed the four men for murder, he set up two large banners, one showing a photo of the chief judge with a Hitler-style moustache above a written message to the judge to name his price for a bribe.
More than 200 people were detained in the so-called "709 crackdown" in 2015, including civil rights lawyers and human rights activists.
Source: BBC