'I'm ready to handover' – Johnson Sirleaf praises Ghana for Liberia's peace
Liberian president, Ellen Johnson Sirleaf has demonstrated her readiness to handover to any of the two candidates that will be declared as the winner of the December 26 presidential runoff.
"I will be leaving the presidency and respecting the constitution of our country," Africa's first elected female president told a gathering in Accra Thursday.
Liberia's National Election Commission (NEC) is expected to release the provisional results of the Boxing Day runoff in the next 24 hours.
Former Ballon d'Or winner George Weah, 51, faced the country's Vice president Joseph Boakai, 73, in the poll, tipped to go in favour of the football legend.
Mr Weah won the first round but did not secure the required 50 percent of the vote for an outright victory.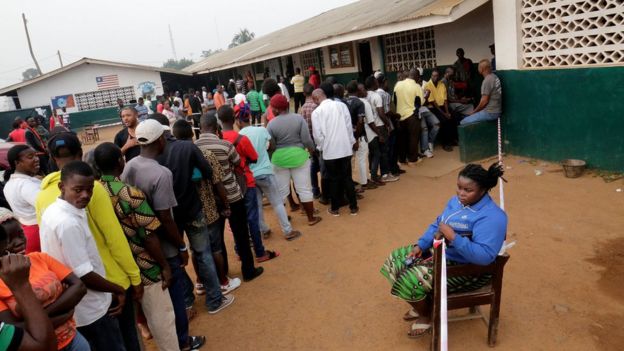 But the original November 7 runoff was delayed after Liberty Party candidate Charles Brumskine challenged the result, citing "massive fraud and irregularities."
Many had feared the case would affect the smooth transfer of power since the last time that took place was 73 years ago.
But the country's Supreme Court earlier this month dismissed the case for the lack of sufficient evidence.
Ms Johnson Sirleaf who took office in 2006 after her predecessor, Charles Taylor was forced out, said she will hand over to the winner in line with Liberia's constitution.
"We've been able to demonstrate that indeed a woman can lead [and] I want to thank all the women in Ghana. Ghana has been a motivating force," she said, thanking Ghana for peaceful efforts in the country founded by US slaves.
She has challenged the candidate who will be declared the president-elect of Liberia to "promote women in politics and in business."
Meanwhile, Liberian journalist Clarence Jackson has told Joy News' Araba Koomson there is relative calm in Monrovia as citizens await the declaration of the final results.
"The National Election Commission said it will by 4p.m. begin releasing the provisional results but supporters of Joseph Boakai think it is too soon to congratulate anybody," he reported.